Information relating to World War One
For everything there is a season,
and a time for every matter under heaven:
a time to weep, and a time to laugh;
a time to mourn, and a time to dance;
a time for war, and a time for peace.

Ecclesiastes 3: 1, 4, 8
Each year, the Team Rector, Churchwardens and Parochial Church Council of All Saints' Church. Hertford welcomes to the church newly elected mayors, members of the County, District and Town Councils, representatives of the armed forces, school children, and many others both in sorrow and joy.
The memorials in the church have been a focus for prayer for peace, and for solemn remembrance since the church was consecrated in 1895.
Remembrance is both powerful and important and is marked with due solemnity every November. We stand at the Regimental Memorial; a wreath is laid; and we pray for all countries and their governments, for their armed forces and for the peace of the world.
Act of Remembrance
As we were unable to hold the usual Town-wide Act of Remembrance in Parliament Square in 2020, Rev Doug made a film in All Saints with Rev Jo and Colonel Keith Cockman OBE plus specially made recordings by members of All Saints Choir. This is designed to be viewed at 10.57 so that the silence is at 11.00, but can be viewed at any time on a Youtube video . It will remain available to be used when convenient.
Memorials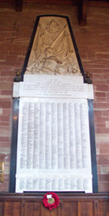 All Saints Church, Hertford contains a
magnificent memorial
to the dead of the 1st Hertfordshire Regiment in the First and Second World War. This was especially cleaned in the summer of 2014. Our thanks to all who contributed to its cost.
There are also separate memorials to the dead of the parish in the memorial chapel at the east end of the church.
There are also a number of soldiers buried in the churchyard. The information sheet on them includes photographs of the graves and short biographies.