Eco Walks
What and Why?
The idea for eco-walks came in response to a presentation
by Andy Lester of A Rocha at the Hertford and Ware Deanery Synod meeting in February 2019.

We hold walks after the All the Family Service in each of the four seasons - January (Winter), April (Spring), July (Summer), and October (Autumn). Whilst these are Family-Friendly they are suitable for everyone. You are invited to join us on a short walk through our six acre churchyard.

The aim is to look closely at our environment, discovering the plants and trees, looking for insects and other creatures, watching for birds and focusing on how everything in nature is interconnected and needs to be safeguarded.
Who can come?
Everyone is welcome - the walk will begin around 11:10, after coffee and a chance to enjoy the craft activity. Families who are not in church for the service, are welcome to join us for the walk.
When?
Our first meeting in 2020 will be after the Family Service on Sunday, 5th January. I am planning another quiz for you. I will try to make it broader in scope than the October one, and there will, again, be a bottle of apple juice for the best adult score and the best child (15 and under).

A little later in the New Year, on an evening date yet to be finalised, Jenny Sherwen, of the Herts. and Middlesex Wildlife Trust, will come to show us the film on swifts called Devil Bird (about 20 minutes) after which she will talk about swifts and tell us what the Trust is doing to help them.

Spring 2019 was really bad for swift migration, with storms along their flight path, including a hurricane. Sadly, fewer birds than usual completed the journey. We had at least two nesting pairs in Hertford, so hopefully they bred successfully, and maybe in time their offspring or other young birds will colonise our church nest boxes.

I have had a range of thrushes here recently, eating the yew berries: fieldfare, redwing, songthrush and mistlethrush, but in small numbers, nothing like the flocks I remember forty years ago.

Don't forget I have peanuts and black sunflower seed for the birds on the Produce Stall after Service, £1.00 a bag.

Love, Fiona
Future Dates
2020

5th January

5th April

5th July

4th October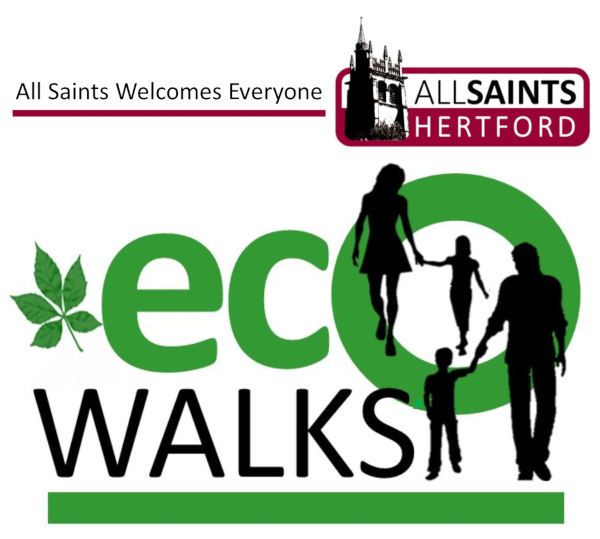 Further information
Notes from Deanery Synod Presentation 4th February 2019.
A Rocha website.
Swifts Article from our April 2019 magazine
July 2019 Information about out second eco walk - and more.
October 2019 Information about out third eco walk - and more.
St Albans Diocese Living Churchyards website.
Caring for God's acre website.
ARC Living Churchyards project website.
---
How to find us