Resources for Advent

Welcome. In this very different and difficult year we still look forward to the 'Comfort and Joy' of our Lord's birth.
To help with this we are offering a number of different ways that everyone can take part both in person and at home.
We have grouped the information below into three sections; firstly our plans for Advent and Christmas in the Churchyard, secondly the Church Services we hope to be able to run and, thirdly, materials for use at home.
We will be reviewing and revising these as more information is made available to us during the month.
In the Churchyard
Advent and Christmas in the Churchyard
From now through Advent and Christmas, All Saints Churchyard will depict the Comfort and Joy of Christmas.
This is intended to be a safe, outside space in the churchyard where families can experience and enjoy some of the excitement of Christmas, as well as the preparation for Christmas during Advent.
We are working with the themes associated with this time of the year - Comfort, Joy, Hope, Love, Light. Clicking on any of the pictures will download a much larger version.
So far we have some trees decorated by children from the Dell, from Abel Smith school, and by members of the All Saints congregation - there will be more to come over the next two weeks.
There is a nativity calendar which is being opened one day at a time until 25th December.
To our surprise our North Porch seems to have become a stable - we hope for some exciting arrivals by 24th and we seem to be ready!
There are carol boards painted by members of the Hertford Art Society.
We've also created a Christmas trail explaining what Christmas is all about.
With a QR code reader you can listen to the carols and watch the videos in the trail.
Alternatively you can find some carols on our Youtube Channel using our Christmas playlist.
Do come and enjoy our six acres of space and see how many different birds and plants you can spot too!
In church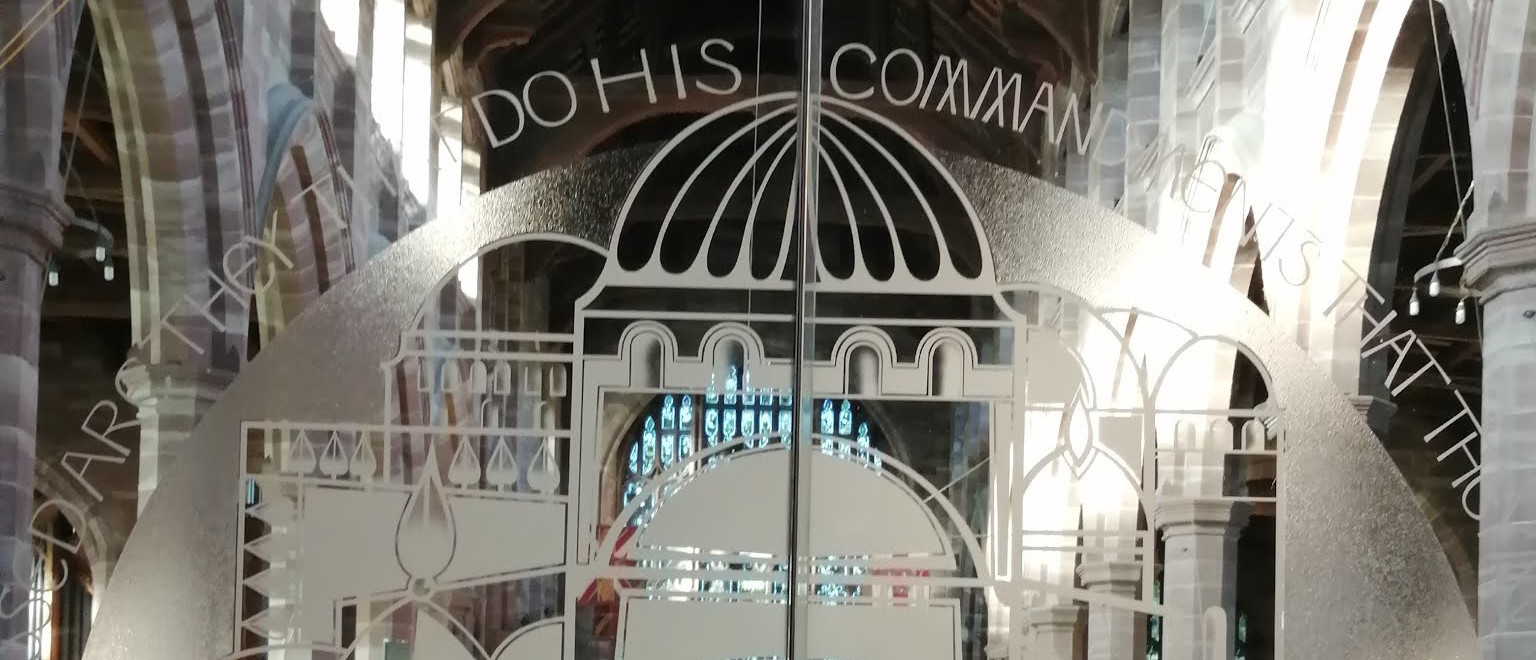 This week we are open for the following:
---
| | |
| --- | --- |
| 23rd | Saturday |
| | 2.00 pm Lecture/Recital/Workshop on Organ Music for manuals for EDOA by Martin Penny in Church |
| 24th | Last Sunday after Trinity/Bible Sunday |
| | 10.00 Parish Communion in Church |
| | 6.30 pm Choral Evensong in Church |
| 26th | Tuesday |
| | 11.00 am Morning Prayer on Zoom |
| | 11.00 am HertsWise Group in Hall |
| | 2.00 pm Funeral of Donald Graves |
| 27th | Wednesday |
| | 12.00 noon for 13.00 Soundbites Michael Stephens-Jones Organ |
| | 2.30 pm Mothers' Union: "Seeing the wood for the Trees" with Rev Bill Church (and tea and cake!). Children welcome. |
| 28th | Thursday |
| | 11.00 am Holy Communion in Church |
| | 7.30 pm All Saints Art |
| 30th | Saturday |
| | 7.30 pm Concert by Hertford Choral Society |
---
We have all the risk assessments/mitigations in place and we continue to be mindful of our own and other people's safety. Further details here.
On Tuesdays we hold a service of Morning Prayer on Zoom at 11.00. More information and the link are available here.
We are continuing to provide materials for those who prefer to worship at home, either on-line or by using printed materials and regular updates via our frequent newsletters.
At Home
With All Saints
We have designed and are creating an on-line Journey of music, readings, poetry and prayer for the Winter Season from All Saints Day (1st November) to Candlemas (2nd February). Further information and links to individual items is on our Promise of His Glory webpage. We will continue to offer on-line worship each Sunday and on Christmas Eve and Christmas Day that can be accessed via our worship webpage.
Further afield
The Diocese has pulled together an array of resources from far and wide which can be found their seasonal resources webpage.
Advent on-line have produced a full Advent calendar.
The Church of England has produced an introductory video, some materials for home use and is offering weekly reflection in Advent and daily ones during the 12 days of Christmas. You can receive these by email or via an app. Sign up and/or download the app here.
For families
Join our cathedral team in exploring what it means to wait with hope throughout Advent. A fun, engaging all age service where children will share in the familiar joy of learning to make an Advent wreath.
Family Service for Advent Sunday, 10.45am
Activities for each Sunday
Families can join in with these activities for each Sunday in Advent, as we prepare for and celebrate Christmas – and as we remember the Comfort and Joy that Jesus brings to us all.
Prayers to begin and end the day in Advent
Alan Stewart devised a short time of prayer for anyone to join in at 8.00am and 8.00pm every day of Advent so that we could reconnect ourselves with God's love and feel connected as the Hertford Team as the body of Christ. This time of prayer and reflection could be used quietly as we travelled to work, in our homes and to begin our Church meetings.
Alan also recorded both services. Please right click or option-click the link and choose 'Save target as ....' to download the files
The full liturgy is available here.
This page
Wider links
Families
How to find us