Concerts at All Saints
Regular Concerts
We run a weekly Wednesday lunch time series Soundbites (details below) and a monthly Saturday morning Coffee Concert series Heavenly Harmonies (details below) ourselves. Our church is also used regularly for concerts by other organisations such as Hertford Choral Society, Hertford Symphony Orchestra and Hertfordshire Festival of Music
---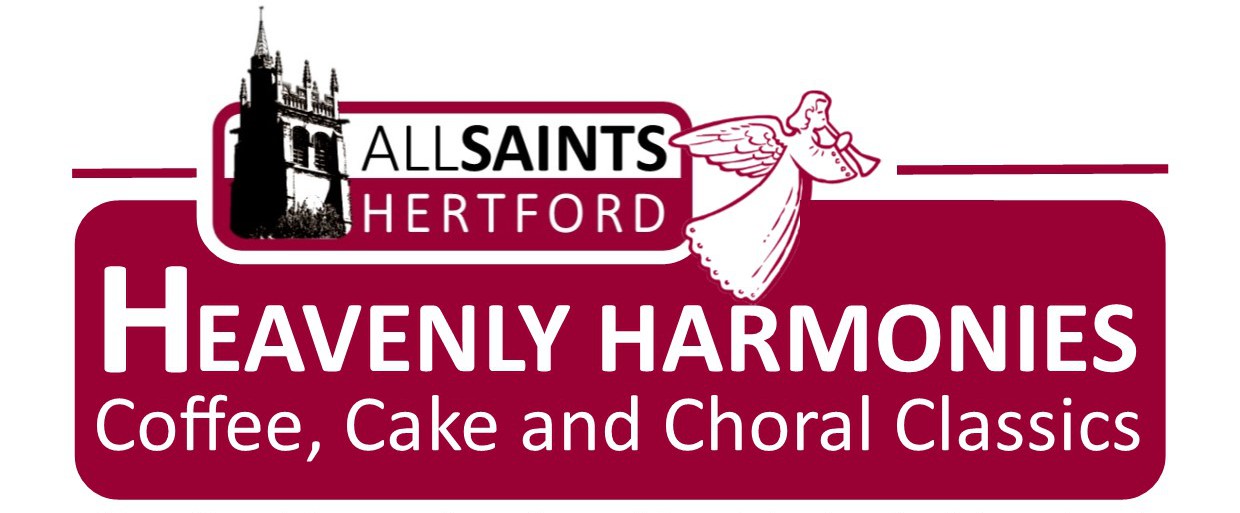 Heavenly Harmonies
Coffee, Cake and Choral Classics
Heavenly Harmonies is a monthly Saturday morning concert series, exploring well-loved classics of the sacred choral repertoire though word and song.

Refreshments from 10.45 with a 45-minute concert from 11.15 to 12.00 noon. Free Admission with Retiring Collection in aid of Church Funds.

Our second concert of 2020, on March 7th, is entitled Deserted as we explore the rich musical depictions of events in Lent and Passiontide.

Each of the following concerts has an appropriate seasonal theme:
| | | |
| --- | --- | --- |
| | May 9th: | VE 75 day |
| | June 13th: | Pentecost and Trinity |
| | July 11th: | Benedict |
| | August TBA | Guest Choir |
| | Sept 12th | No Concert: Coffee Morning with stalls, Tower open and Herts & Beds Bike 'n Hike |
| | Oct 10th | Creation |
| | Nov 14th | Talents |
| | Dec 5th | Messengers |
Please tell your friends and do come along yourselves. If you have a favourite seasonal piece please tell us and we will try to include it.
---
Wednesday Lunchtime Concerts
Soundbites, as its name suggests, combines a selection of soups, rolls, sandwiches, cakes and hot drinks available from 12:00 with a short (35-45 mins), unticketed, admission free concert at 1:00 pm. These concerts are run to contribute to the Music Development Fund, which supports our musical work with young people in the town. Concert series dates normally match school term-times.
Our 2020 Spring Season runs from 8th January to 18th March. Information about the first few concerts is below. More will be added in the near future.
Spring Season 2020
Jan 8th

Golden Piano Trio

Violin
Cello
Piano
Piano Trio in A minor Ravel
First prizewinners of the Cavatina Chamber Music Competition 2010, The Golden Piano Trio was formed under the direction of the Arman Piano Trio at the Dartington International Summer School in 2009. Renowned for their warm and engaging performances the trio enjoys a wide and varied career performing across the UK and Europe.
Jan 15th

Meera Maharajah

Flute
Jan 22nd

Michael Frith

Organ
Following the release of his recent CD recording, Michael plays one of the most famous and impressive organs works of the 20th Century. A sequence of nine meditations explore episodes in the story of the birth of Jesus.
La Nativité du Seigneur Messiaen
Jan 29th

Diana Brekalo

Piano
Works by women composers including Fanny Mendelssohn, Anne de Belleville, Lily Boulanger and Dora Pejacevic.
Feb 5th

Pal Banda

Cello
Bach Suite 3 in C and Suite 6 in D.
Feb 12th

'FunBites'

Soloists from Ware Operatic Society
A medley of light and comic songs featuring Noel Coward, Cole Porter, Flanders & Swann, G&S & others.
Feb 19th

Choir 18

Director: David Boarder
Choir18 brings together singers from several choirs in the Hertford area to perform a wide range of sacred and secular choral repertoire
Feb 26th

Nadine Nigl

Antonio Oyarzabal

Violin
Piano
Sonatas by Mozart and Brahms
We look forward to welcoming you to one or more of these concerts