Welcome to All Saints Church Wreath Festival
and Christmas Market
25 - 27 November 2016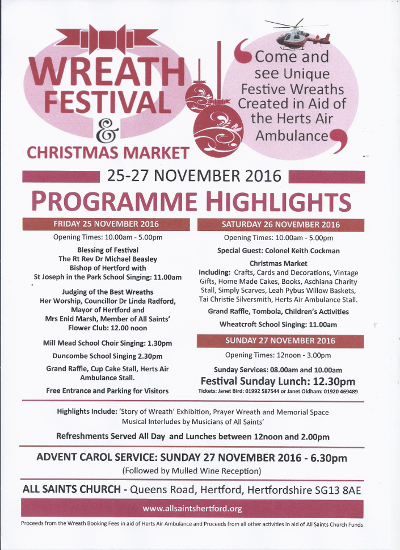 Please cick on the image for a larger version.
Wreath Festival
All Saints Church is holding a Festival to celebrate 'The Wreath', which is an ancient Christian symbol of immortality.
There are over 140 individual wreaths., a'Story of Wreath' exhibition, Prayer Wreath and memorial space.
Refreshments served all day.
Lunches served between 12 noon and 2.00 pm.

Daily Programme Highlights
25th
Friday
10.00 am Festival Opens
11.00 am Blessing of Festival by Bishop Michael. Choir of St Joseph in the Park
12.00 noon. Judging of Best Wreaths with the Mayor of Hertford
1.30 pm. Choir of Millmead School
2.30 pm Choir of Duncombe School
Grand Raffle, Cup Cake Stall, Herts Air Ambulance Stall
6.00 pm Festival closes
26th
Saturday
10.00 am Festival re-opens
Christmas Market. Crafts, Cards & Decorations, Vintage Gifts, Home made Cakes, Charity stalls
Grand Raffle, Chocolate Tombola, Children's Activities
11.00 am Choir of Wheatcroft School
2.00 pm All Saints Musicians
5.00 pm Festival closes
27th
Advent Sunday
10.00 am Parish Communion
12.00 noon Festival re-opens
3.00 pm Festival Ends
6.30 pm Advent Carol Service by Candlelight
Wreath Festival Coordinator:
Mrs Dorothy Toyn
10-12 Warren Terrace, Hertford,
Hertfordshire SG14 3JE
T: 01992 589781
E: dorothy.toyn@ntlworld.com